Emojis are considered to be the first universal language of the internet generation. All people – no matter what age or origin – understand them. This is why nowadays Emojis are omnipresent.
Since the early days of digital communication, emoticons where used as a way to express feelings. Research found that when we look at a smiling face online, the same parts of the brain are stimulated as when we look at a human face.
In their actual Instagram emoji study Quintly reveals some interesting insights on how your Instagram account can profit from emojis. They analyzed 20.000 profiles with 6,2 million posts in 2016 had those findings:
56% Instagram profiles use emojis. The profile group from 1 to 1.000 followers uses them significantly less than all other pages. But over the year 2016, the use of emojis in that group had the biggest growth by 37%.
Another interesting fact is: The biggest Instagram pages analyzed used emojis in 81,6% of their posts.
And these are the most frequently used emoticons on Instagram: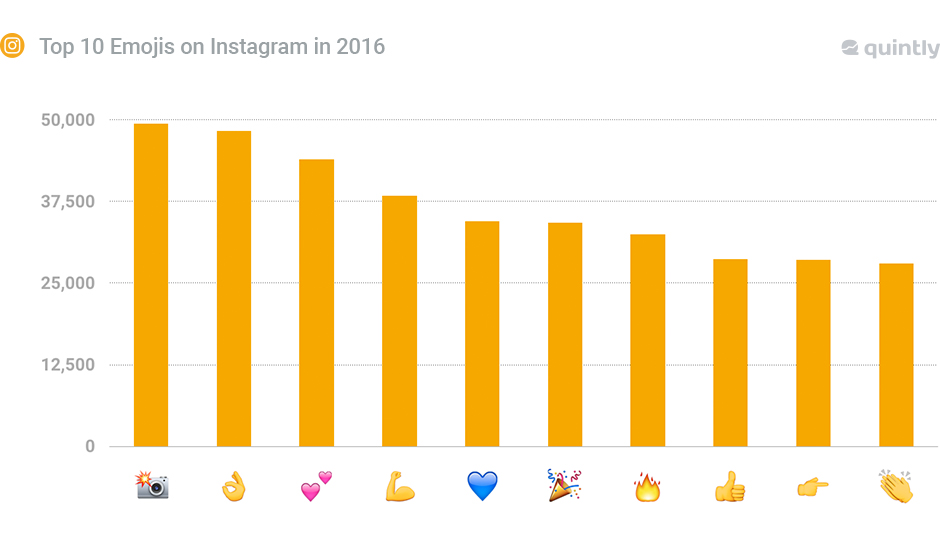 So the most popular and most frequently used emoji on Instagram is the camera icon.
The study also proofed that posts with emojis earn a higher interaction rate on Instagram. Why this? Instagram posts containing emoticons seem to be perceived in a more positive way and thus stir more feelings from the recipient.
Quintly found that the interaction rate – which makes profiles of different sizes comparable – showed an increase from 1,77 for posts without emojis to 2,11 with emojis. That is an increase of engagement of 17 % for Instagram posts using emoticons.
Conclusion: Emojis can be greatly beneficial to improve the number of interactions on your Instagram account. You should therefore try to include emoticons to express feelings and give a more personal touch. But be careful to not overuse them. 😉
Do you want to optimize your Social Media presence? Or develop and implement a holistic Social Media and Online Marketing strategy within your company? Then we at Simone Philipp Management are glad to help you. Just contact us!
© Simone Philipp Management
Source & graphic: Quintly.com
Picture: Simone Philipp Management